About Our School
Pouncing Tigers, Martial Arts for children, is a combination of complementary martial arts styles. It is designed to teach children that respect and learning are fun. Strength building games, listening exercises and Martial Arts techniques are covered in every class. The Martial Arts techniques in the Pouncing Tigers classes have been specifically crafted to challenge the students and to encourage their success beyond the dojo, now and for years to come. The goal is to plant a seed now so that a love of Martial Arts, and the excellent habits that come with it, will grow with your child for the rest of their lives. And they love it!
We, at Pouncing Tigers, teach the virtues of Martial Arts to develop the habit of success for all students. Using ancient techniques and modern teaching systems, we create an atmosphere where the ability to fail transforms into the opportunity to persevere. We put our students first, balancing discipline with levity so that students may reach their highest potential.
Founded in 2007, by Ken Gibson, Pouncing Tigers started with a four student Martial Arts class for children in a rented studio on the Upper West Side. Now, located in Harlem and East Harlem, Pouncing Tigers has been teaching in our community for over a decade. Our students range from 3 years old to adults.
Mr. Gibson started his training in Martial Arts in 1989. Since then he has earned black belts in Hapkido and Farang Mu Sul. He has studied Russian Sambo, Filipino stick and knife fighting, Estakada, Juijitsu and American Boxing. He fought professionally for a short time in the Mixed Martial Arts arena, combining many of the disciplines he studied.
As founder of Pouncing Tigers, he has combined aspects of these Martial Arts to create a system for families. His guiding principle is to have families learn the basics of martial arts while allowing them to develop a love for what they are doing.
Mr.Gibson graduated from massage school in 1993. He has worked as a personal trainer since 1999. He went on to complete nutrition school in 2005 and holds a Masters of Science Degree in Acupuncture and Chinese Medicine from Pacific College of Oriental Medicine.
Why Choose Pouncing Tigers Martial Arts Academy?
Fun Classes
Working hard and accomplishing goals can be a ton of fun! Pouncing Tigers students definitely have fun in class. The balance between fun and discipline gives the students an accomplishment that they can be proud of and enjoy. They know they are working hard and they look forward to class.
Live Virtual Classes
All of our classes are also available to students virtually. Students can take class online and in the School. After class, enrolled families can review a class they took or watch a class they missed to stay up to date.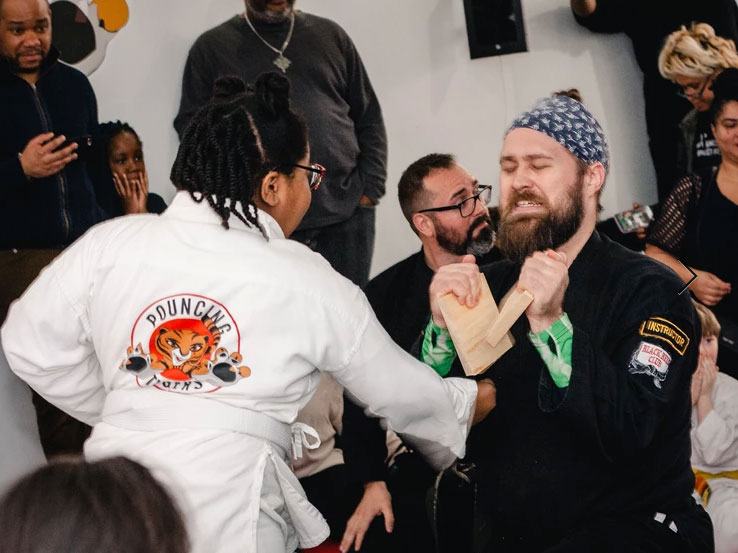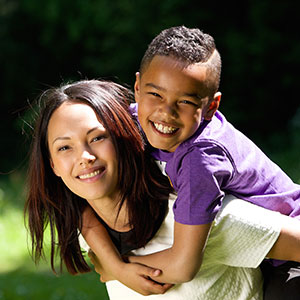 LISTEN TO WHAT OUR HAPPY PARENTS ARE SAYING
Both my boys have been going to Pouncing Tigers for almost 2 years and LOVE it! They have big goals to become black belts and want to continue their journey with Pouncing Tigers until they do. They love their main instructor Mr Anthony so very much and also love when they get surprised by a class with Mr Gibson himself! Thank you for supporting my boys both through martial arts and generally in their day to day life.
My son, wife and I love this School. The staff are amazing and I say it with great Pride. From Mr. Gibson, Mr. Chris to Mr. Anthony ( sorry guys to many to mention ) are all wonderful people. My son Matthew has been in the East Side School from the day they opened and loves it. Men Anthony is an amazing instructor and takes pride in teaching all the children and is also extremely patient with the students. Mr. Jahmel is also another instructor that is very knowledgeable and expects greatness from the students. My son loves it and looks forward to classes. I would recommend this School to any parent looking for a GREAT Martial Arts School. Oh they also teach adults if you are interested. I say go check it out for yourself (you will not be disappointed) thank you to both East and West side schools for welcoming us into your family as my family welcomes you into ours.
Always an amazing class. my son has been going for 3 years and has definitely developed under Mr. Ken